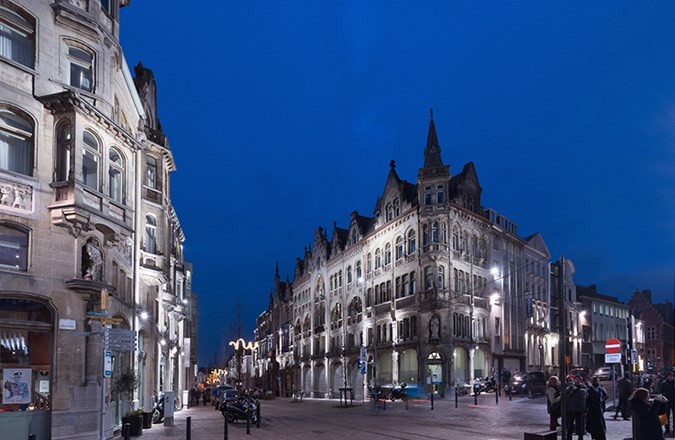 Belfortstraat – Ghent
SCULPdot floodlights enhance the architecture of this busy street in Ghent, creating an impressive nocturnal presence for the delight of residents and visitors out for a stroll
In 1998, the city of Ghent developed a Lighting Plan to attract visitors to its city centre and create a vibrant nocturnal experience. They wanted a lighting solution that would respect the intimate character of the city in a sustainable manner. Ever since, the streets, squares, monuments and unique façades have been lit in a coherent way to reveal the city's identity.
Belfortstraat was the latest street to receive a lighting transformation. The local authorities wanted to create a pleasant visual experience that would encourage people to go for a stroll at night. They chose SCULPdot floodlights to replace the old fixtures fitted with discharge lamps (80W) that were consuming a lot of energy. Discreetly integrated into the façade on the first floor of the buildings, the floodlights highlight the architectural details with a gentle warm white light so that they can be fully admired at night.
These LED floodlights (36W) have cut energy costs by 60% and also significantly reduced maintenance expenses. In addition, the use of the SCULPdot, which integrates the latest LED technologies, makes it easier to target the elements to be illuminated to ensure minimal light pollution and nuisance for the residents.
A total of 85 SCULPdot floodlights were installed. This is the first illumination scheme that the local authorities have undertaken with LED floodlights and they are delighted with the result. The new lighting respect the city's heritage, endowing it with an impressive presence at night while enabling the city to reduce its carbon footprint.