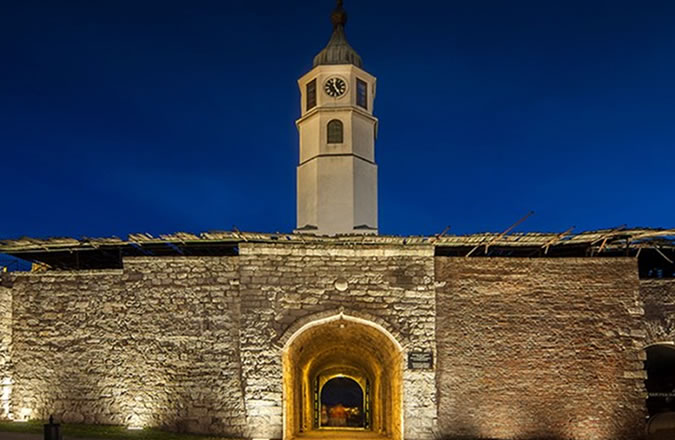 Belgrade Fortress
SCULP floodlights provide an energy-efficient illumination scheme to enhance this landmarks' history and charm for the joy of residents and visitors
Built on a ridge above the confluence of the Sava and Danube Rivers, Belgrade fortress, which was destroyed and rebuilt many time over the past 16 centuries, still stands as the symbol of the Serbian capital. The most visited tourist attraction in the city, it was declared a Monument of Culture of Exceptional Importance in 1979.
In 2018, Schréder was commissioned to provide a new architectural lighting that would enhance the fortress' history and charm. A sustainable solution that would bring the multiple gateways and walls alive at night without interfering with the visual enjoyment was needed.
We proposed a mixture of SCULPdot, SCULPflood and SCULPline floodlights to achieve the required vision.
Recessed in the ground, close to the walls, the SCULPline accentuates the texture of the ancient bricks by playing on layers of light and shadow.
It increases visibility and improves the contrast in the multiple gateways for a safer and more enjoyable experience.
Equally, it highlights the small passageways to create a warm nocturnal ambiance to encourage visitors to explore this impressive heritage site at their leisure.
The SCULPdot and SCULPflood bathe the fortress walls in a soft white light to bring them alive at night and emphasis the importance of this symbolic landmark in the city skyline.
All of these energy-efficient floodlights direct the light exactly where it needs to go, with minimal glare for the people visiting the fortress.
The new illumination scheme has transformed the fortress into a striking nocturnal feature overlooking the city and created an engaging public space at night that can be enjoyed by both the local residents and visitors.