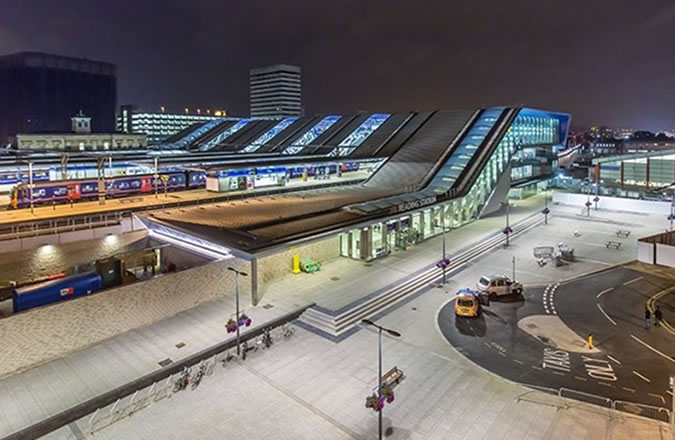 Reading Station
Lighting solutions help improve Reading Station
Since 1840 Reading has been an increasingly important hub for the railway network.  Acting as a gateway to the West of England (from Devon and Cornwall to Wales and from Bath and Bristol to the Cotswolds) the station is also a hub for passengers that wish to travel from the South Coast to the North of England without changing in London.
As one of the 10 busiest stations outside of London Reading manages more than 15 million passengers per year.
In 2008 Network Rail announced a £400 million regeneration and reconfiguration of the station.  This extended the platform configuration to support more effective train transition as well as a complete refurbishment of the station concourse to support increased passenger numbers.  Since its announcement the programme has been significantly extended, delivering major improvements to both the station and the surrounding areas.  Five new platforms have been created alongside major redevelopment work around the station hub.
Urbis Schréder has been extensively involved in the refurbishment across three distinct projects.  First, Urbis Schréder was commissioned to provide lighting for the station platforms that are not under cover.  This project is particularly critical because, if power was to be lost to the station platforms the lighting needs to provide an instant backup to direct passengers safely.  Urbis Schréder created a bespoke solution to provide battery backup in case of emergency.