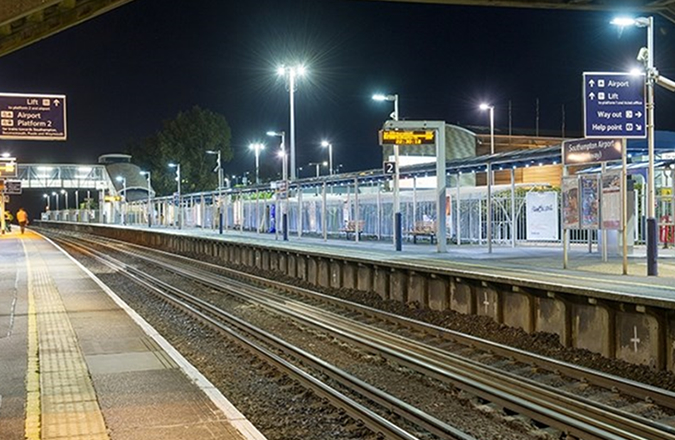 Southampton Airport Parkway Station
Smart lighting saves Southampton Airport Parkway Energy Costs
Southampton Airport Parkway Railway Station was built in 1996 to serve the growing needs of Southampton's regional airport. Based just outside the city in Eastleigh, the railway station connects the south coast of England with London and is one of the most well connected stations in the UK. In addition to direct pedestrian access to the airport, the station is close to the M3 and M27.
In 2010 the station was upgraded as part of a £7 million investment aimed to transform Southampton Airport, which now services 1.7 million passengers annually with national and international departures and arrivals. The development included new lifts and improved parking facilities. The first train to leave Southampton Airport Parkway station in the morning departs at 5am and the station is open until late at night, servicing four hourly Trains to London. Lighting around and within the facility is therefore essential to enable passengers to catch trains safely. South West Trains has a long and successful relationship with Urbis Schréder in the region, providing safe lighting facilities for track maintenance and stations.
A key consideration for South West Trains was delivering an effective lighting solution whilst minimising the cost of installation, maintenance and particularly energy consumption. One of the issues was to address the fact that often station platforms were empty and yet were still consuming energy through lighting. This needed to be carefully balanced creating an environment where waiting for a train was a safe and pleasant experience for passengers.
Urbis Schréder combined the energy efficient properties of LED lighting with the flexibility of using a Passive Infrared sensor (PIR) to deliver the most energy efficient solution possible. PIR identifies movement and can dim lights after a certain amount of time to save energy. When the PIR detects movement, the lumens can be increased to provide improved visibility.
This was the first installation of the Axia range with PIR at a UK railway station and provides significant advantages. First South West Trains can be certain that the energy cost is as low as possible: the Axia range is an incredibly energy efficient lighting solution made even more so by the addition of PIR technology. Furthermore, these energy savings were achieved without any discernible change in the environment for rail passengers. Because the lighting level is increased when people are some way from the lighting source, a passenger will not notice the changes in the lighting power.
Combining the LED high powered white light from the Axia range with PIR technology has enabled South West Trains to make significant energy savings with no compromise to passenger welfare. The resulting ambiance around the station is a blue print for other potential roll outs across the network.