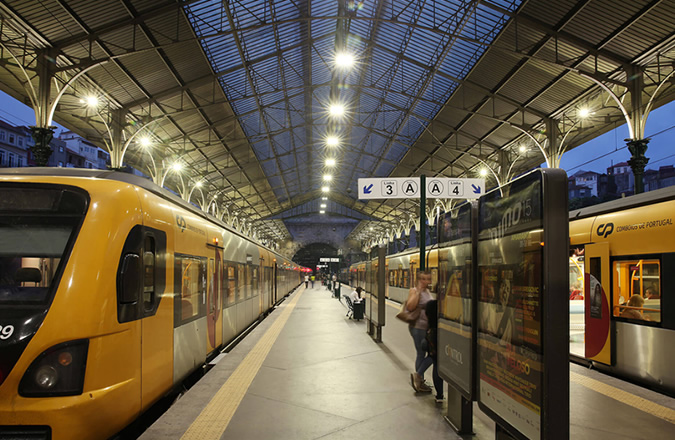 São Bento Railway Station
Schréder luminaires providing a cost-effective, energy-efficient and eye-catching lighting solution for this iconic train station
The São Bento Railway Station in Porto, is one of the busiest railway stations in the northern region of Portugal, welcoming approximately 1 million passengers per month.
Opened in 1916, it is one of the most beautiful stations in the world and is well known for its spectacular entrance hall with its walls covered with 20,000 splendid tin-glazed ceramic tiles that describe the history of Portugal.
The station is managed by Infrastruturas de Portugal (IP) who had the tiles restored in 2011 to preserve the beauty of this Classified National Monument.
In 2017, n&m Lighting Design Studio was entrusted with implementing a new energy efficient lighting scheme that would improve the lighting levels for a better passenger experience and enhance the historic patrimony of this emblematic train station.
The Neos and Dexo luminaires were chosen to light the platforms. The Dexo, suspended from the central axis of the roof, lights the platforms, increasing brightness and visibility so that passengers and rail staff can board and alight the trains in complete safety and comfort.
The Neos floodlights illuminate the magnificent iron and glass canopy and pillars to highlight the station's architecture.
For the entrance hall, an indirect lighting solution was needed to avoid any reflected glare from the glazed tiles. LED floodlights, chosen for their minimal energy consumption, low maintenance requirements and long life span, were to be placed on the ceiling to gently diffuse the light on the walls, highlighting the extremely rich details of the frieze and ornate blue and white tiles.
The SCULPline was chosen for its slimline aesthetic design and high-performance light distribution. Placed inside the windows of the main façade, they discreetly blend in, with minimum visual impact, to draw attention to the exceptional frieze and tile work.
They are fitted with LEDs that provide a warm white light (3000K) to ensure maximum comfort and to bring the true colours of the tiles to life.
The result is a truly stunning foyer.
This lighting project required a solution that fused technical quality and aesthetic design, while providing a cost-effective, energy-efficient and eye-catching lighting solution.
The Schréder luminaires have achieve all of these objectives; indeed the energy consumption and CO2 emissions for both the platforms and entrance hall have been reduced by approximately 75%.