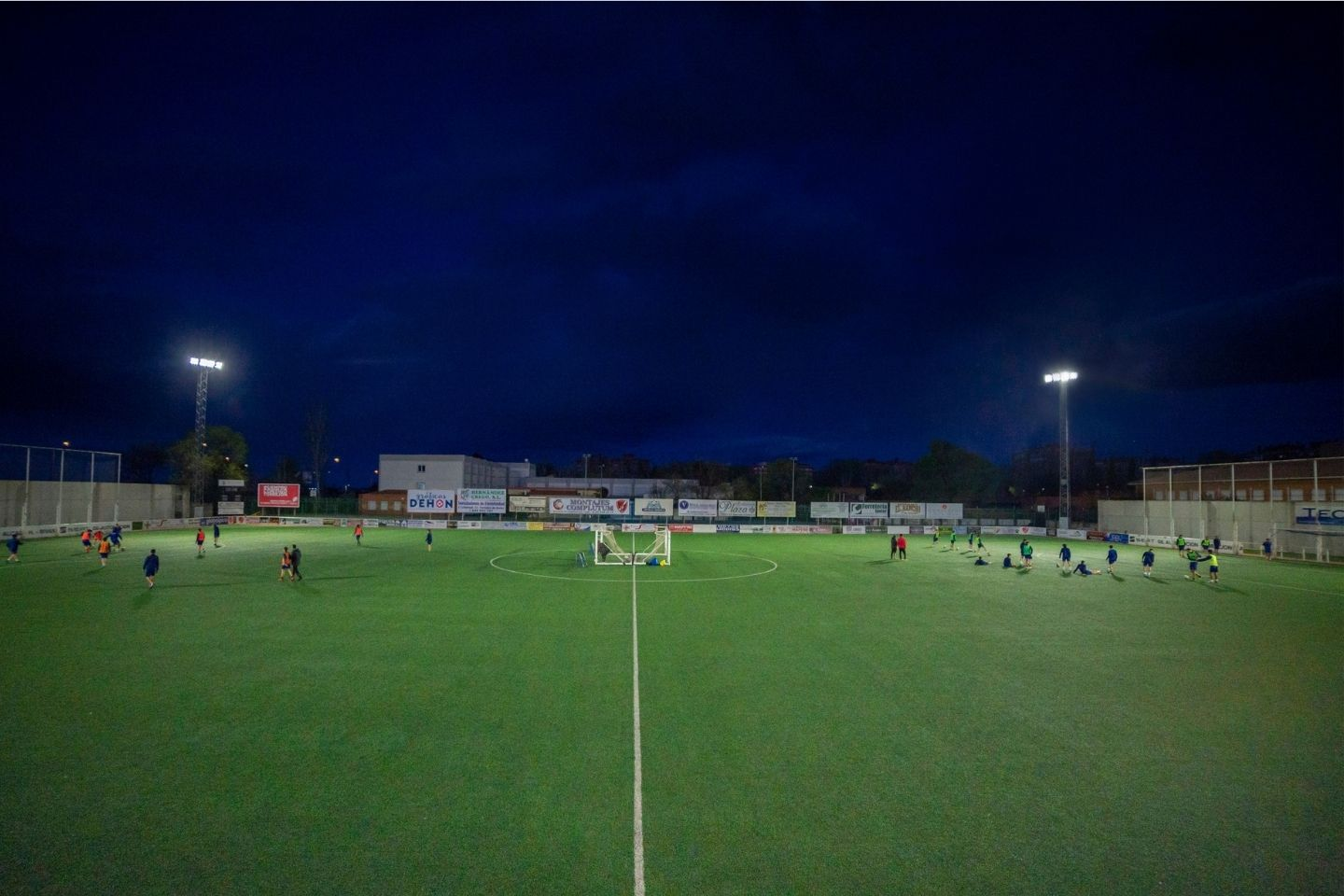 Veredillas Municipal Stadium
Energy-efficient football lighting solution improves visibility and the player/fan experience
Founded in August 1953, A.D. Torrejón is the largest football club in Torrejón de Ardoz, and one of the most popular in the Madrid metropolitan area. The club has 2 teams: a male team that plays in the Tercera División RFEF and a female team evolving in the Segunda División Femenina. Both teams play their home matches in Veredillas Municipal Stadium which has a seating capacity for 1,700 spectators and pitch of 100x70m.
In 2018, the local authorities decided to carry out a major renovation of the stadium as part of the Torrejón de Ardoz City Council's Sports Infrastructure Maintenance and Improvement Plan. This refurbishment included a new artificial turf pitch, new changing rooms, new seating and new access stairs to the stands.
In 2022, the local authorities decided to upgrade the lighting to meet the high-quality of infrastructure elsewhere in the renovated football stadium. They wanted the latest LED lighting technology that would deliver a better quality of light with less energy.
 
Energy-efficient football lighting solution to generate savings
The club opted for the ECOBLAST, a modular LED sports floodlight that had only been launched on the market in 2021. A preliminary lighting design had shown that this highly-efficient sports floodlight would deliver a high uniformity over the entire pitch, with no shadows.
Equipped with the latest technology, the ECOBLAST would achieve the significantly better uniformity with a much lower energy consumption, generating considerable savings of 57% for the club. Thanks to the long life span of the LEDs and the robust design, it will also dramatically reduce maintenance operations and costs.
Football lighting at its best for players and fans 
The new football lighting has also considerably improved visibility on the pitch. Fitted with neutral white LEDs (4,000K) that offer a high colour rendition (CRI 70), the ECOBLAST ensures excellent visibility for players on the pitch so they never lose sight of the ball.
Spectators in the tribune also have a clear view of the pitch thanks to the bright, glare free light that ensures high visual comfort for a great match day experience.
Players, fans and club officials are highly satisfied with the new stadium lighting, that has made a big difference while providing a good return on investment for the club.