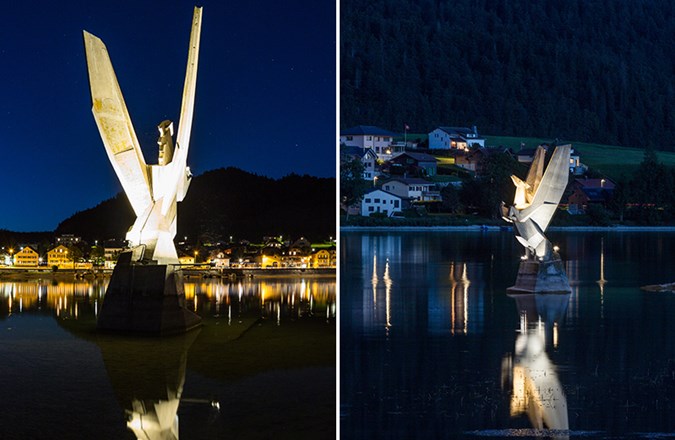 Pegasus Statue – Lake Joux
SCULP floodlights bathe this work of art in a white light to create a unique nocturnal identity
At the edge of Lake Joux in the picturesque Vallée de Joux, a statue of Pegasus surges proudly from the water. This 14m high concrete statue, which symbolizes the source of water, is the work of the Swiss sculptor André Lasserre. Built in 1959, this landmark is well known throughout the region and can even be reached by foot when the lake freezes in winter.
The local authorities wanted to give this statue a nocturnal identity. They organized an evening with the town technicians and the Schréder team to test different lighting schemes and find an illumination worthy of this local monument.
They opted for an illumination scheme which bathes this work of art in white light and emphasizes the minimalist design. Just seven floodlights – 4 SCULPdot and 3 SCULPflood 60 – were installed to make this statue stand out beautifully on the water, creating a truly unique nocturnal identity.
Local inhabitants and visitors enjoying lakeside strolls are now delighted that they can admire this distinctive masterpiece every evening.