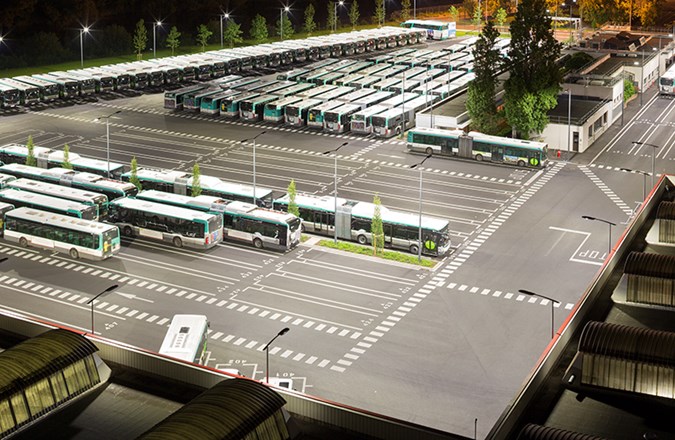 Ratp Bus Depot – Nanterre
The Senso provides a bright white light to ensure perfect visibility and comfort for employees while reducing the company's operating costs and carbon footprint
The RATP (Parisian public transport operator) is responsible for most of the public transport in Paris and its surrounding Île-de-France region. All renovations and maintenance work on the vehicles are carried out at the 26 bus depots spread throughout Paris and its suburbs.
Conscious of reducing its energy consumption and carbon footprint, the RATP commissioned Schréder to replace the lighting at the Nanterre bus depot.
Schréder proposed a solution with the Senso installed at a height of 9m on Yoho columns so they do not impede the passage of the buses.
The Senso fulfils the RATP's criteria of light levels of between 30 to 50 lux (depending on the zone to be lit) with an overall uniformity of 40%. In addition, this harmonious ensemble also offers an energy-efficient lighting that diffuses a bright white light for excellent visibility to ensure a safe and comfortable working environment for all of the employees while reducing operating costs.