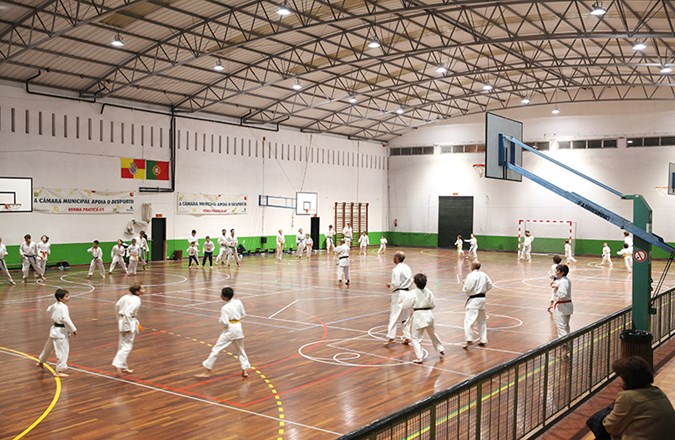 Alcochete Municipal Pavilion
INDU BAY luminaires cut energy costs by 87% while improving comfort and visibility in this multi-purpose sports hall
Energy consumption for artificial lighting in multi-purpose sports halls can be quite significant due to the long opening hours. The managers of Alcochete Municipal Pavillion wanted to rein in operating costs for their hall. Increased maintenance costs due to inefficiency from the old luminaires and degrading light levels meant that the sports hall was not sufficiently lit. They wanted to upgrade the lighting to a more modern and efficient system that would accommodate a range of sports for the various activities practised by the local residents, schools and clubs. The new lighting had to deliver high illuminance levels, minimise glare and ensure good uniformity.
They chose the INDU BAY luminaire. A total of 27 INDU BAY luminaires (246W) were installed to replace the 40 existing fixtures fitted with 400W metal halide lamps. The INDU BAY luminaires are equipped with light sensors to adapt the light levels according to the ambient outdoor light. Together, they will enable the managers to generate annual savings of 87%.
Minimal maintenance for the light sources will also generate considerable savings and reduce inconvenience for customers
The managers are delighted as in addition to the significant energy and financial savings, the new lighting has also transformed the multi-purpose sports hall into a bright and welcoming leisure space. Customers are pleased with the improved light uniformity, which provides a consistent level of comfort and visibility.