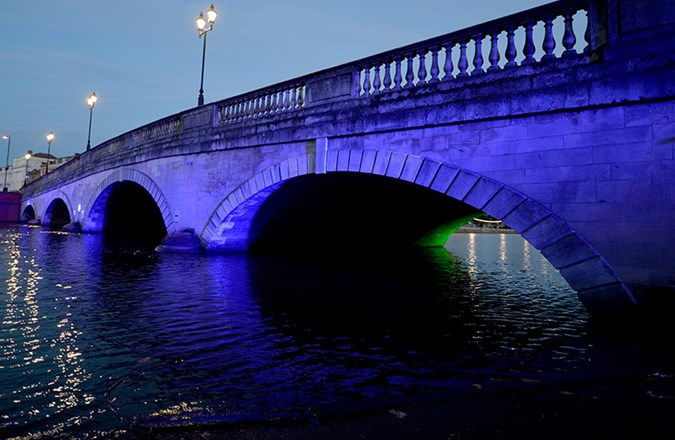 Bedford Bridges
SCULP floodlights illuminate the bridges in Bedford to create a visually attractive identity while minimising energy consumption, light spill and the town's carbon footprint
Bridges are an integral part of local communities – facilitating safe transport, driving tourism and generating iconic landmarks. Bedford Borough Council has built many bridges spanning the River Great Ouse over the years to provide pedestrians, cyclists, and vehicles a better integration with the town centre. As part of a large scale lighting regeneration scheme to replace street lights with LED luminaires, the council has illuminated four of the town's iconic bridges – the Suspension, Butterfly, Britannia and Town Bridges – with state-of-the-art LED floodlights.
The Suspension Bridge, situated east of the town centre, was the first such bridge to be built in the county and features curves in an elaborate bowstring.
Butterfly Bridge, named after its distinctive wing-like struts, is an elegant pedestrian suspension bridge. Inaugurated in 1998, it was built to create a memorable landmark to symbolise the end of the 20th century and the beginning of the 21st century. It stretches majestically across the River Great Ouse at the far end of Bedford's Embankment.
The Britannia Bridge, built in 2014, is the latest addition to the town's footbridges and is very much a contemporary structure. All of these bridges required a lighting scheme that complemented their modern design.
Town Bridge, on the other hand, is a striking landmark that was built in 1813. Leading directly into the heart of the town centre, it required an illumination scheme that would highlight its historic architecture.
With the SCULP floodlights, Schréder provided a dynamic lighting solution, to enhance the distinctive features of each gateway. The colour changing effects provide an eye-catching light show the length of the river every night, creating a distinctive nocturnal identity. The low maintenance, energy-efficient, SCULP LED floodlights were installed on either side of the river, parallel to the river's edge. They direct the light exactly where it is needed minimising light spill.
The riverbanks offer an attractive retreat in the heart of the town and provide large areas of green space with pedestrian paths. SCULP floodlights were also installed to uplight the tress along these banks and revitalise the area for the local community.
This new lighting scheme has proven that energy-saving lighting upgrades can give towns and cities a visually stunning identity while meeting requirements for efficiency, security and versatility.