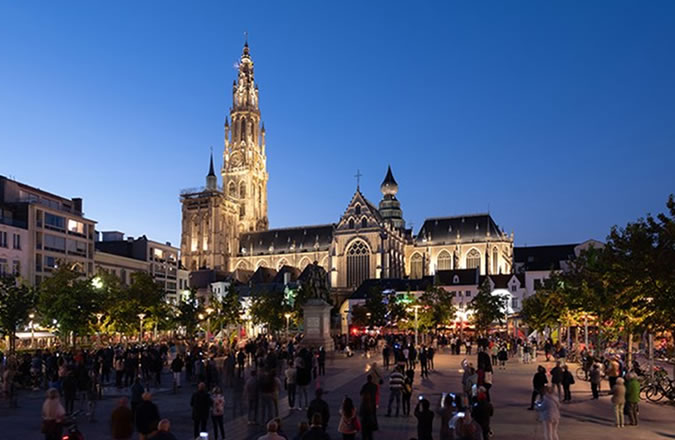 Cathedral Of Our Lady – Antwerp
SCULPLine bathes this majestic edifice in white light to emphasise architectural details and create a striking focal point while cutting energy costs by 50%
Inaugurated in 1521, the cathedral is the largest Gothic church in the Benelux and the pride of Antwerp. The flamboyant tower, which at 123m high dominates the city skyline, was completed in 1518.
In 2012, the city of Antwerp launched an innovative lighting master plan for the entire city and its neighbourhoods. With this plan, the city wants to implement sustainable lighting solutions that consume little energy.
In addition to respecting the master plan requirements for the solutions' longevity, the luminaires for the Cathedral also had to be discreet and not hamper in any way the appearance and perception of this historical public space by day. By night, they had to enhance the architectural details to show this timeless beauty in all its splendour.
At the heart of the masterplan, is the concept that urban lighting should, first and foremost, serve people by creating welcoming, safe and comfortable environments. It must create functional and appealing landscapes.
The SCULPline was chosen to take up the challenge of illuminating the Cathedral. This linear floodlight discreetly blends into the façades for a minimal visual impact. The floodlights are directly integrated onto the façade, (without any damage to historic materials), replacing the old fixtures installed at a distance from the Cathedral.
The new installation offers a more precise control of the light. Being so close to the architecture, the floodlights emphasise the architectural details, which were washed away by the yellow light of the old lighting system, like a magnifying glass. They bathe the edifice in white light, which brings out the true beauty of this masterpiece in stone.
Thanks to its performing LensoFlex®2 photometric engine, the SCULPline will enable the city to generate substantial energy savings. The floodlights consume 50% less energy than the old fixtures. In addition to the reduced consumption of the lighting solution, the floodlights will also significantly cut maintenance costs due to their long life span.
The new illumination scheme has given this iconic landmark a new lease of life at night, creating a striking focal point in which the community can take great pride.