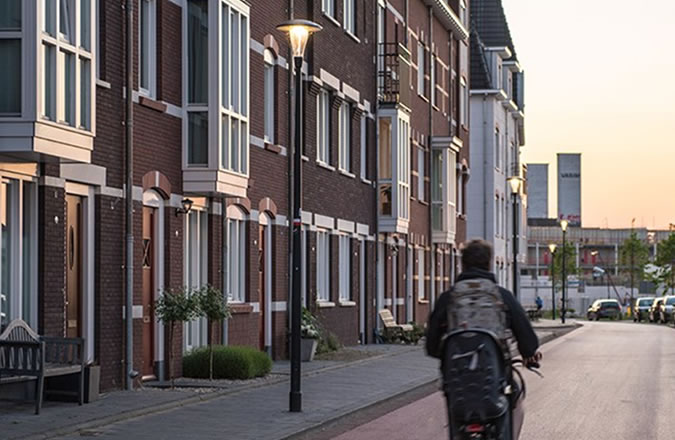 Koningsdaal – Nijmegen
The low maintenance, energy-efficient LED Pilzeo luminaire provides a sustainable lighting solution for this new urban development while enhancing the landscape
Situated on the Waal River, Nijmegen is the oldest city in the Netherlands, dating back to Roman times. Today, nonetheless, it is a lively university city with a cosmopolitan feel, thanks to a large international student population. The local authorities launched a large-scale urban development a few years ago to increase the supply of housing and support sustainable new communities. This new district, called Koningsdaal, is located near the Waal River. This spacious neighbourhood is characterised by stylish 20th century architecture.
The local authorities wanted an energy-efficient lighting solution that would ensure excellent visibility with zero glare and light trespass. With these criteria in mind, the developer chose the Pilzeo to complement the refined architecture. It meets all the city's requirements while its classic yet contemporary design perfectly integrates the landscape.
A total of 80 Pilzeo luminaires with 8 LEDs have been installed to date. They emit a gentle white light that creates an environment in which the residents feel safe and secure to cycle around, stop for a conversation or simply spend time outside at night.