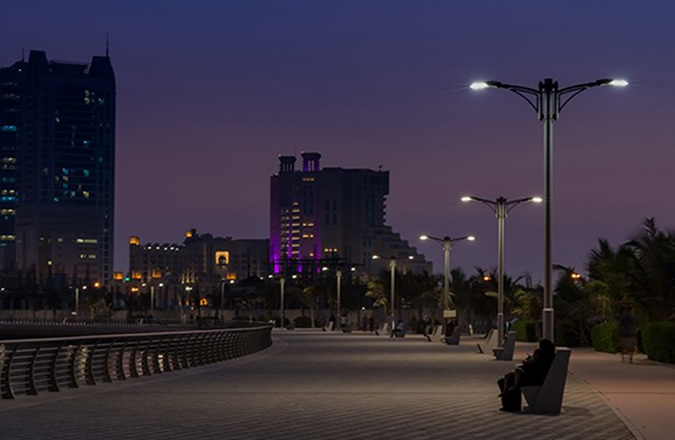 Ajman Corniche
The Teceo brings this 4km long esplanade to life at night while reducing the city's environmental footprint
Lined with cafés and restaurants, the Ajman Corniche is a four-kilometre-long esplanade overlooking the Arabian Gulf. In 2014, the local authorities of Ajman decided to redesign the corniche to create more public spaces and facilities such as a bike path and jogging track for local residents.
As part of the redevelopment, they decided to upgrade the lighting as they wanted  a more sustainable solution that would reduce the city's energy consumption and environmental footprint.
An LED lighting scheme was the obvious choice. In addition, the white light provided by the LEDs offers perfect visibility and a bright environment for those wanting to spend time outdoors.
They also wanted a contemporary and elegant luminaire to compliment the modern architecture in the area and to enhance the landscape. They opted for the Teceo as they were impressed by the high-quality finish and refined design of this highly efficient luminaire.
The Teceo contributes to creating a welcoming and vibrant environment where families can indulge in their favourite hobbies or simply relax and take advantage of the facilities, bringing the area to life at night.