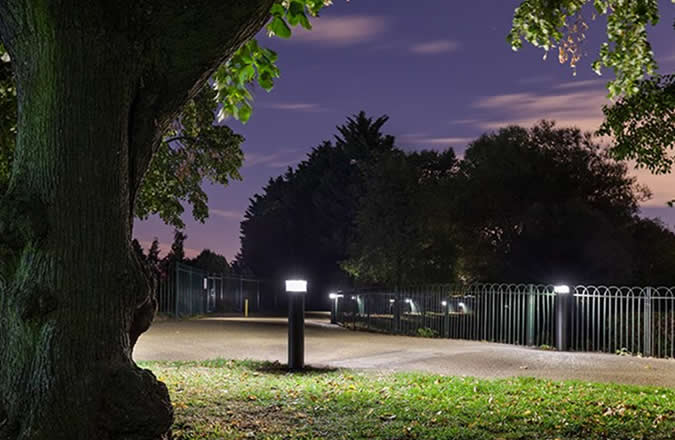 Finsbury Park London
One of London's busiest parks is made safer using illuminated LED bollards
Finsbury Park in the London Borough of Haringey opened in 1869. Now grade II listed, the park covers more than 100 acres.
In 2005, Finsbury Park received a £5 million Heritage Lottery grant for regeneration and subsequently awarded the Green Flag Award in 2007. The park has continued to retain its Green Flag status and now has a variety of sports facilities including football pitches, bowling green, athletics stadium, tennis and basketball courts. The park is also home to the London Blitz American football team and London Mets baseball team.
As the largest and most popular park managed by Haringey Council, there became concern over poor lighting levels.
Urbis Schréder installed 43 Pharos LED bollards next to the footpaths that wind through the park and around the pond area. The integrated LED lighting in the Pharos Bollard is ideally suited for lighting paths in parks, providing an architectural feature as well as direct lighting, promoting a safe environment.
The asymmetrical style of the Pharos bollards removes light pollution, keeping light to the pathways with no overspill, thus reducing the disturbance to surrounding wildlife. The bollards are time controlled, with dusk-to-dawn sensors that activate when the ambient light level drops below 35 lux.
Designed to be extremely robust and vandal proof, the Pharos boasts IK10 impact resistance.