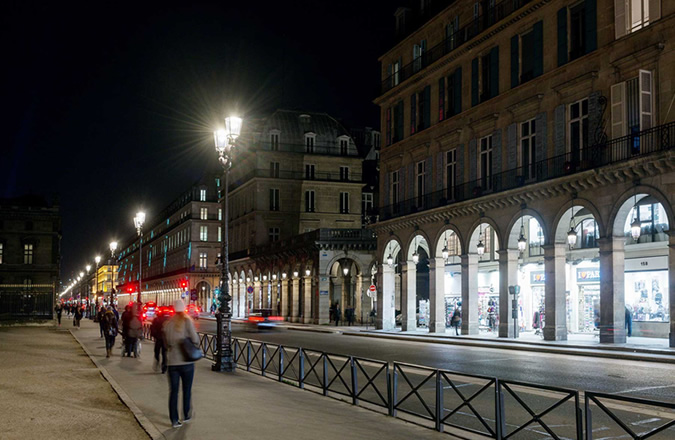 Rue de Rivoli
Energy efficient lighting solution cuts energy costs by 84% while preserving the unique ambiance of the City of Light
To mark COP21 which took place in Paris in 2015, the city of Paris renovated the lighting on one of the most symbolic axes of the capital, Rue de Rivoli.
This famous 3km long commercial street includes some of the most fashionable names in the world. By upgrading the lighting, the local authorities wanted it to become a symbolic project for its plan to reduce the energy consumption of the public lighting and traffic lights networks by 30%, by the end of 2020.
EVESA, the company responsible for managing the 175,000 light points throughout the city, entrusted Schréder to provide a lighting solution for this prestigious street.
The 19th century lanterns in cast iron, which are classified as historic monuments were kept while the protector and light sources were changed.
LED optics incorporating white LEDs (2,700K) with an average consumption of 19W replaced the old white sodium lamps (120W), cutting the energy bill by 84%!
In total, 640 luminaires were upgraded, reducing energy consumption by 274MWh and CO2 emissions by 26 tons.
The new lighting delivers a uniform lighting on the road and pavements and ensures a safe environment for all while preserving the luminous, unique ambiance of the City of Light.
Rue de Rivoli is not the only large artery of this capital city to be lit exclusively with warm white LEDs.
The lighting was also renovated in two other areas, Montmartre and the Saint Martin Canal, using the same method.
The lanterns were upgraded with LED optics in 3,000K.
The city is now benefiting from energy efficient lighting solutions that uphold its reputation as the City of Light, with its many streets and monuments truly brought to life at night, without compromising on its heritage.