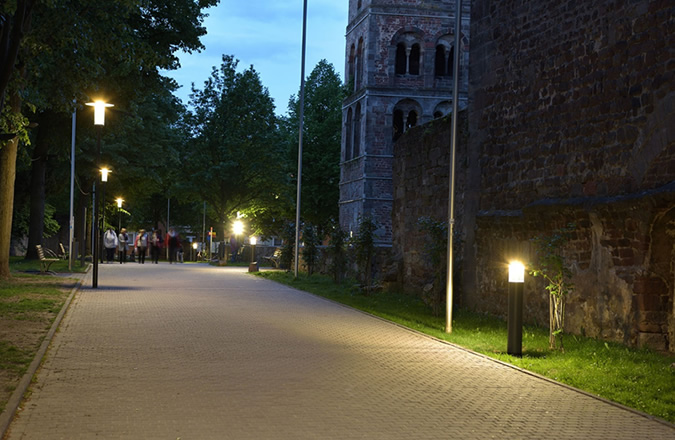 Stiftsruine
Smart lighting technology creates a more liveable and inclusive space for citizens and tourists while enabling the city to achieve its sustainability objectives
Bad Hersfeld is a well-known spa and festival city in the district of Hesse.
Every year the city welcomes more than 100,000 visitors, eager to discover the operas and comedies of the Bad Hersfelder Festspiele.
This open-air festival which, runs from mid-June to August, takes place in Stiftsruine, the ruins of the city's monastery, said to be the biggest ruins in Europe.
Conscious that public spaces play a vital role in the social and economic life of communities, the local council recently redeveloped the area around the monastery ruins. They upgraded the infrastructure for electricity, water and waste to accommodate the festival and different markets that take place during the year.
They also decided to replace the lighting as they had received complaints that the area was poorly lit.
With sustainability at the heart of all the councils' initiatives, they wanted a smart lighting system that would help to highlight its heritage and improve the visitor experience.
Street lights managed by a control system was the ideal solution.
They would enable the city to not only reduce energy costs but also put in place the necessary infrastructure for future smart city initiatives.
It was critical that the control system be open and interoperable to integrate with other platforms.
The council opted for a mixture of Shuffle columns, Zylindo lanterns and Millenium bollards, fitted with detection sensors, and controlled by the Owlet IoT system.
In addition, the luminaires will send automatic updates on their operating status and alerts when maintenance is required, helping the city to reduce their maintenance costs as well.
All of the luminaires were also chosen for their refined design.
They discreetly integrate the environment, creating a coherent and consistent nightscape.
What is more, the Shuffle is fitted with WiFi, cameras and loudspeakers to create a truly connected space for residents and visitors.
Free WiFi is available for everyone, so they don't need to worry about using up all of their data – a real advantage for tourists.
The cameras enhance the sense of safety and security as the police will be able to keep an eye on the area at all times.
The loudspeakers are to be used during the festival season and Christmas market to broadcast music and contribute to enhancing the experience for visitors, creating a space where they will want to spend more time.
The new lighting scheme has revitalised the area, achieving the Mayor's intended vision.
Locals and visitors can seamlessly experience an area that captures the city's heritage, while creating new memories in this modern, connected public space.