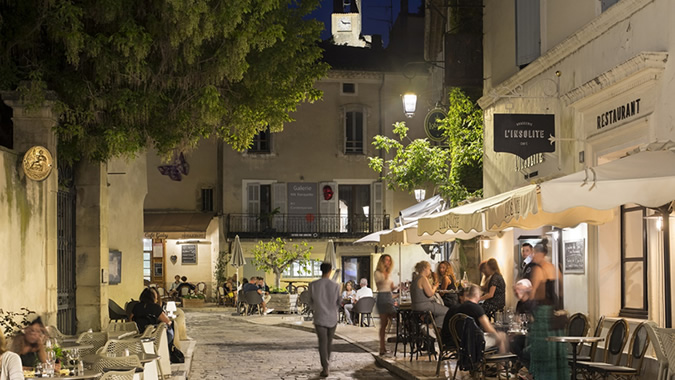 Lourmarin Smart Lighting System
A new connected lighting system for one of the most beautiful villages in France
Lourmarin, located in the Vaucluse department, is listed as one of the most beautiful villages in France.
Its outstanding geographical situation in the Luberon, its architectural heritage and its many hiking trails make the village one of the most popular tourist destinations in Provence.
Setting a sustainable approach 
The local council wanted to upgrade the lighting network to have more autonomy in managing the luminaires and create a fully connected city. As the local authorities are committed to building a sustainable future, it has implementing many initiatives and has been a "pesticide-free municipality" for several years. Therefore, the new lighting infrastructure had to be environmentally responsible: it not only had to reduce the power consumption with LED technology, but also direct the light downwards to reduce light pollution and comply with the French decree of 27th December 2018.
To meet expectations, Schréder proposed a bronze-coloured VALENTINO LED luminaire to replace the lanterns fitted with with conventional sodium lighting. With a design inspired by the original gas lanterns, the Valentino luminaire allows the municipality to preserve its architectural heritage while benefiting from LED technology.
Controlled environment
In 2019, the council carried out a pilot project with seven of these luminaires fitted with motion detection sensors at the town's recycling centre. The project was a success and the local authorities decided to install this new system throughout the village.
Nearly 300 luminaires have been installed throughout the village, delivering a warm white light and respecting the required colour temperature of 2700K, with a power consumption of between 56W and 75W.
Smart and connected landscape
The local authorities are delighted as they can control the light remotely whenever they want thanks to the Schréder EXEDRA control system. They can manage the luminaires, one by one, reset the lighting levels and schedules, directly monitor energy consumption as well as the lifespan of the light sources and observe and anticipate possible problems.
Schréder EXEDRA provides an interesting range of programming options and adapts to meet the needs of operators and users. The city has a complete dashboard for each luminaire and can, in complete autonomy, adapt the light according to the specific needs of each space. In the summer, for example, the council can lower the light levels when films are being broadcast on the village square!
With the LED luminaires, Schréder EXEDRA further reduces the energy bill. In fact, those in charge of the lighting estimate that the new lighting system will generate energy savings of at least 40% in its first year.
Lourmarin council is happy with the new lighting, which allows it to be autonomous in its management while reducing energy consumption.