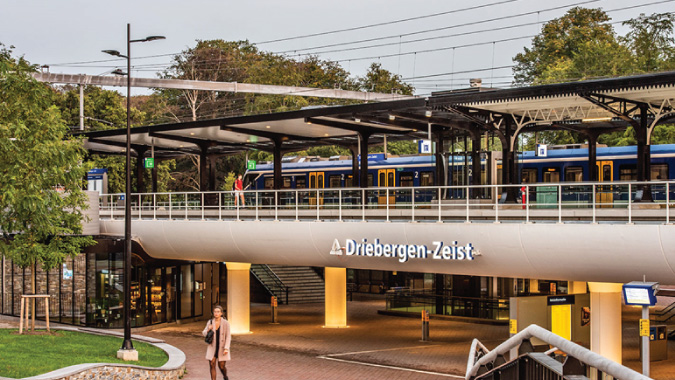 Driebergen-Zeist Station
Lighting to create safe and sustainable public transport hub and protect the environment
Driebergen-Zeist station, located between Driebergen-Rijsenburg and Zeist, is on the Amsterdam–Arnhem line. It is an important regional mobility hub that welcomes almost 9,000 passengers every day, with services every hour to the different towns and cities in the area.
The station underwent a major renovation between 2017 and 2020. Two new tracks, underground bike parking facilities and a new train and bus station were built to increase passenger capacity and encourage more people to use public transport. An underpass was also constructed to replace a nearby level crossing which was creating a bottleneck on the N225 road.
The lighting was also replaced to ensure safety for motorists, cyclists and pedestrians navigating the new layout and to enable the local councils as well as ProRail, the Dutch organisation responsible for the national rail network, achieve their objectives of becoming energy neutral.
Sustainability at the helm
The station is well known for its scenic landscape, as it is located next to several nature reserves. The redevelopment was completely focused on maximum sustainability, emphasising the feeling of stepping into nature when alighting the train and preserving the flora and fauna in the nearby reserves.
The architectural firm Arcadis was commissioned to draw up the plans and oversee the work for the redevelopment of the station and the surroundings.
Taking a holistic approach, the design and construction was driven by the local ecology, heritage and culture. Materials from the old station were reused during construction and solar panels were installed on the platform roofs.
Energy-efficient lighting to connect spaces and ensure safety 
A sustainable lighting solution that would eliminate glare, light spill and preserve the local biodiversity was the brief.
The TECEO was ideal. This energy-efficient luminaire is fitted with optics that direct the light exactly where it is needed, ensuring there is no light trespass or glare.
Thanks to its slim, arched design, it perfectly integrates the modern landscape, connecting the train station to the bus station, underpass and parking facilities to guide commuters. It delivers a significant upgrade in the quality, safety and vibrancy of the hub.
Furthermore, made of robust materials that can be easily recycled at the end of its long life, it brings lasting and positive benefits.
Amber lighting to protect nature  
Artificial bright white light can have an adverse impact on wildlife, disorientating them and disturbing their circadian rhythm. Amber lighting is preferable to support biodiversity.
The TECEO luminaires, lighting all of the paths including the bike lanes, in close proximity to the nature reserves are fitted with amber LEDs to protect the wildlife while ensuring human safety and comfort.
On the main roads and railway platforms, the TECEO luminaires are equipped with warm white LEDs to provide the required lighting levels with excellent visibility. They create a well-lit environment where passengers and motorists feel safe and comfortable.