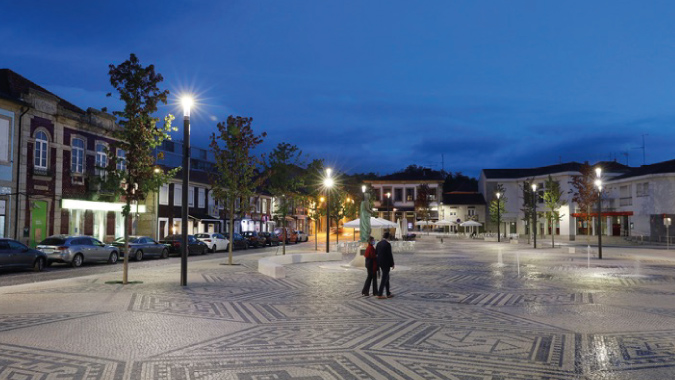 Praça da República
Aesthetic smart pole transforms square into safe, vibrant and inviting space at the heart of community life
Known for its mineral-rich hot springs that the Romans came to visit, Vizela only officially became a town 20 years ago. Since then, the local authorities have been investing in its infrastructure to improve the quality of life for its inhabitants. The council recently renovated the town's main square, Praça da República, following growing demand from the local community. This square is very much at the heart of the town's social life as it is home to many restaurants and shops and regularly hosts events and activities like live concerts, theme fairs, farmer's and flea markets.
Create a vibrant and appealing space
The local authorities engaged the architectural office, NIDUS Arquitetura, who proposed redesigning the square into a walkable and pleasant pedestrian environment by reorganising the layout to reduce car traffic, installing new typical Portuguese paving and new seating for people to sit and relax.
The vision was to create a vibrant and appealing public space with ample open space in the centre that would provide the following services:
quality lighting – a fundamental factor to ensure public safety and stimulate social and economic activity;
illumination of some unique features on the square;
WiFi so people would spend more time on the square and restaurant terraces;
sound system to broadcast music and announcements during festivities.
After discovering the SHUFFLE smart pole, NIDUS and Vizela town council asked Schréder to design the lighting scheme as well as the set-up for the loudspeakers and WiFi coverage across the entire square.
A scalable, sustainable and futureproof solution
The most versatile smart pole on the market, the SHUFFLE was able to incorporate the different hardware requested by the town to provide a variety of services in an elegant design. It also provides a futureproof system that can be easily upgraded in the coming years so the town can be responsive to the needs of the people who live and work in the area.
All of the light modules in the SHUFFLE are controlled by Schréder EXEDRA. This smart lighting system enables the local authorities to dim the light in all of the poles, either individually or in groups. By controlling and monitoring the poles, the town will save energy and significantly optimise maintenance operations.
An open and interoperable platform, Schréder EXEDRA can interact with other IoT devices to deliver more services and enable the local authorities to build and meet their sustainability and smart city goals.