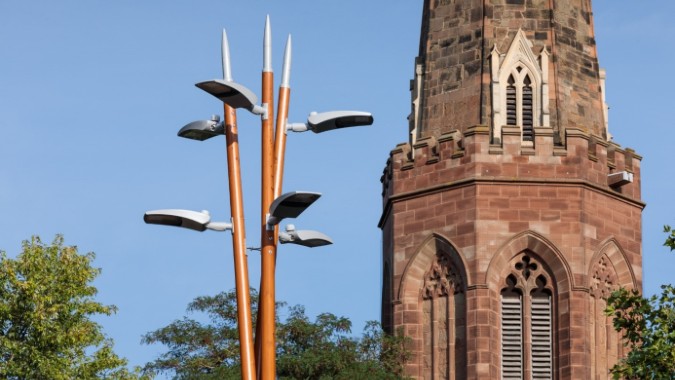 Bull Yard
TECEO on iconic triple mast lighting columns creates a unique lighting structure to enhance this busy shopping precinct both by day and by night
In 2017, Coventry Council announced a ten-year strategic plan to enable the city to become a culturally attractive, vibrant and prosperous city for everyone who lives, works and studies there. The strategy aims to make Coventry a leading city of culture and bring future economic success and a better quality of life for residents.
A 15-acre city centre regeneration plan was launched to transform the amenities for an improved social and cultural life. As part of this plan, the Bull Yard shopping precinct, a well-known and well-loved area of the city centre was redeveloped with a fresh new design that focuses on nature. The regeneration included a water feature, play area, seating and an LGBTQ+ rainbow crossing.
Unique lighting structure to reflect nature
Balfour Beatty, who was leading the project, commissioned Schréder to provide an original yet sustainable lighting solution for the Bull Yard area. It had to reflect the new focus on nature and encourage people, especially families, to spend more time enjoying the facilities once the sun sets.
We worked with Valmont to design a beautiful, bespoke triple mast column to host the highly-efficient TECEO luminaire.
Sustainable approach 
Five single wooden poles with the TECEO were installed at the water park area and five triple columns in the heart of the Bull Yard.
The low-energy TECEO LED luminaire delivers a gentle white light that creates a warm and welcoming night-time atmosphere in line with the brief.
The wooden masts have been specially treated to avoid rotting and corrosion and are easy to maintain.
This unique lighting structure is one of very few triple lighting columns in the world and is truly a work of art to admire. We could even say that it has created an iconic landmark in the area. Local residents are delighted with the high-quality public space that not only provides an effective pedestrian thoroughfare but also a place to sit, play relax in a sustainable way.