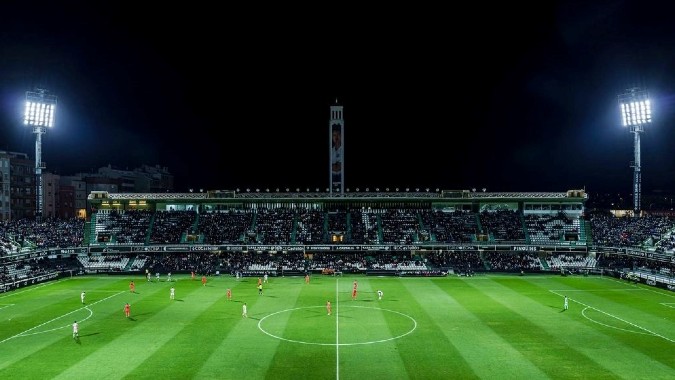 Castàlia Stadium
Low-energy OMNIBLAST floodlights ensure perfect visibility for fans in the stadium and watching on HDTV, conforming to UEFA standards.
Located in the city of Castellón de la Plana, Nou Estadi Castàlia is a multi-purpose venue. It is essentially used for football though as it the home ground of Club Deportivo Castellón, a professional football team evolving in the Spanish Primera Division. 
The stadium which was inaugurated on 17th June 1987 with a seating capacity for 15,500 spectators and pitch of 120x70m, has hosted many major events over the past 25 years, including the international matches of the Spanish Under-21 national team. 
The Spanish football leagues have been putting a strong focus on implementing the latest technologies to enhance the spectator experience, especially those unable to attend live matches and watching on screens. 

To cater for these international matches and other major events, the football pitch lighting in the Castàlia stadium needed to be upgraded to conform to the stringent regulations for high-definition television broadcasting. The local authorities wanted a football lighting solution that would meet the standards as well as enhance the experience for players and fans in the stadium.
 
High-quality sports lighting for HDTV
The highly efficient OMNIBLAST was chosen to light this football pitch. This state-of-the-art LED floodlight meets the requirements for UHD/HD/4K broadcasting. With a high Colour Rendering Index (CRI +90) and Television Light Consistency Index (TLCI), it delivers sharp images with excellent colour and brightness so supporters watching on television or mobile devices can fully enjoy all the tactics and action during the game. Equally, it eliminates the "flicker" effect for excellent slow motion replay. 
 
Perfect visibility to keep one's eye on the ball 
In the stadium, the OMNIBLAST delivers the required 1,500 lux with an overall uniformity of over 75% on the football pitch. Thanks to the bright, glare free light that ensures high visual comfort, players and fans have a clear view of the pitch and can keep their eyes on the ball at all times.

The drivers of the floodlights are equipped to integrate the DMX control protocol in the future to create dynamic light shows and further enhance the experience before, during and after the matches.