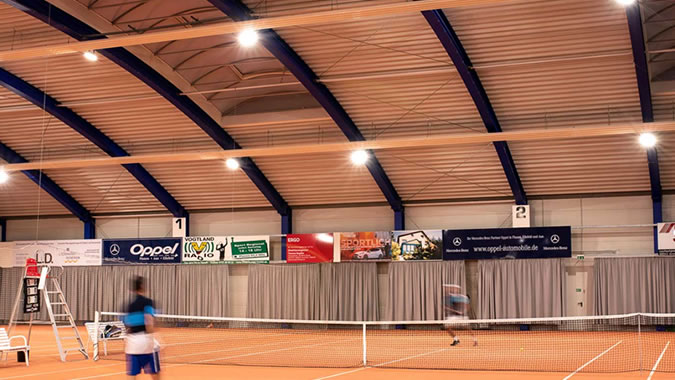 Sport Park Indoor Hall
Sports lighting reduces energy costs by 75% and improves visibility to up the players game
SportPark, nestled in the green landscape of Plauen in the Vogtland region, is a sports centre that provides accessible and affordable facilities to the local community. It has over 5,500m²  indoor and 15,000m² outdoor spaces dedicated to different sports and supports local clubs for all abilities.
In 2021, the lighting for the indoor space had deteriorated and was consuming a lot of energy, increasing costs for the club. The sports facility manager decided to upgrade to LED technology to save money.
Sports lighting for an arched ceiling
The indoor hall is home to 2 tennis courts and a five aside football pitch. The new sports lighting had to deliver high uniformity across the hall to ensure perfect visibility for all players with less energy. As the ceiling is arched to provide the optimum balance between height requirements for the different sports, the lighting design had to be carefully planned. We worked with the engineering office Lachmann-Dominok to ensure the perfect design and installation.
Sustainable lighting with reduced operating costs
The INDU BAY was chosen as it is a cost-effective solution for delivering a high light output from a considerable height with high efficiency and zero glare for players.
It has reduced energy consumption by 75% from 4,500kWh to 1,100kWh. Thanks to its design dust accumulation is dramatically reduced, which means the INDU BAY will continue to provide a high quality of light in the long term.
The robust design of the INDU BAY and long-life of the LEDs also ensures that maintenance operations and thus costs will be substantially reduced, a critical factor for the sports facility manager given the arched ceiling.
The new sports lighting will inspire players of all levels and ages.