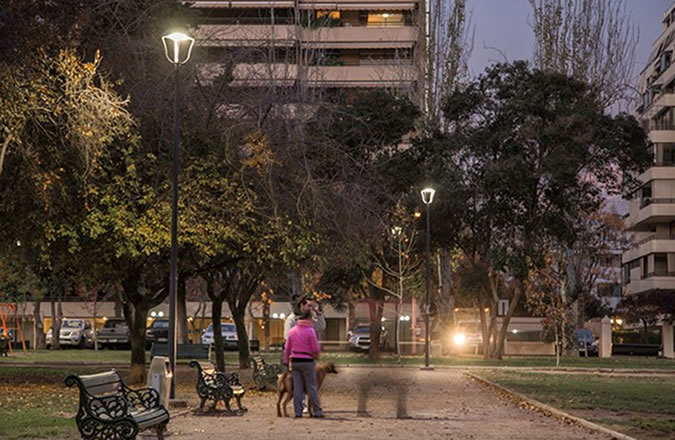 Providencia Parks
Stylage street lights managed by the Owlet Nightshift control system have enabled the local authorities to cut energy costs by 75% while improving the feeling of safety in the district's parks
The local authorities of Providencia, a district in Chile's capital city, Santiago are committed to reducing their energy consumption and carbon footprint. They are actively seeking and implementing clean and renewable sources of energy to ensure a sustainable future.
Upgrading their street lighting fitted with traditional light sources to LED technology was a logical step for the council. For the parks and squares in the district, they wanted an intelligent lighting system that would improve the lighting levels so that residents would feel secure to spend time outdoor at night and significantly reduce the energy bill.
They opted for the Stylage luminaire controlled by the Owlet Nightshift control system. By day, this elegant luminaire provides an aesthetic touch for the landscape. By night, it diffuses a soft white light with excellent visual comfort to create inviting public spaces.
The new lighting solution was initially installed in the Inés de Suárez park, just outside the metro station on the Line 6. It was a real success, procuring an improved sense of safety and well-being for the residents while cutting energy consumption considerably.
Indeed, it was such a success that the authorities have rolled out the new lighting solution to 4 more parks – Uruguay Park, Rio de Janeiro Plaza, Alcaldesa Park and Atria Park – enabling them to reduce energy costs by 75%!
The council is happy with this progress which is enabling them to foster a a livable and resilient community through sustainable actions.