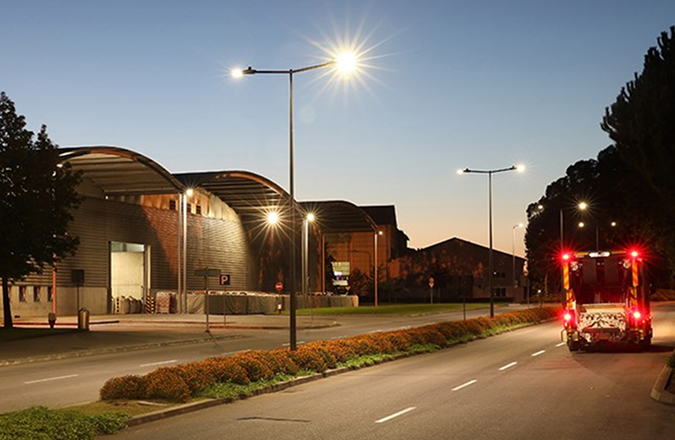 Lipor Waste Treatment Plant
Intelligent lighting solution reduces energy consumption by 80% while delivering a much better nocturnal ambiance
LIPOR is responsible for the management and treatment of urban waste produced by eight municipalities in the greater Porto region: Espinho, Gondomar, Maia, Matosinhos, Porto, Póvoa de Varzim, Valongo and Vila do Conde.
On its Ermesinde campus, the waste is treated using the most modern methods, including integrated systems and landfill minimisation.
LIPOR has a very strong corporate social responsibility policy and runs numerous projects to promote sustainable waste management and environmental awareness. It built an adventure park on an old landfill and more recently, in collaboration with the local councils, created a 4km long ecological trail to educate the local population about the biodiversity along the Rio Tinto River and to promote environmental heritage.
In 2018, the company decided to replace the outdoor luminaires on the campus, which were fitted with discharge lamps (from 250W to 1000W), as they were no longer providing the required lighting levels.
They opted for the Voltana and Neos luminaires, which enabled them to cut the total installed power from 33kw to 7.1Kw – generating a staggering 80% reduction in energy costs with a much better nocturnal environment.
The Voltana lights the streets and outdoor areas of the complex, while the Neos highlights some architectural and decorative details.
LIPOR also selected the Kio LED luminaire to light the new Eco Trail. They create a safe and comfortable space for users in the most sustainable way.
All of the luminaires are controlled by the OWLET IoT City Management System. It monitors and manages the entire installation to improve the efficiency, by adapting the light levels to the exact needs of the area.
It generates additional savings that easily exceed 50%.