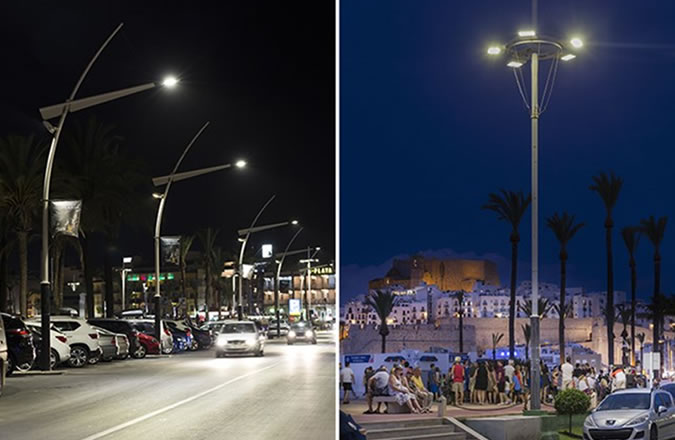 Peñíscola Relighting Scheme
Neos LED and Aramis LED luminaires breathe new life into the nocturnal environment of this picturesque seaside town while reducing operating costs
Peñíscola, a coastal town in eastern Spain, is renowned for its magnificent beaches and historic old town. Every year, tourists flock to this stunning location to visit the medieval castle and cobbled streets and to enjoy the superb views. 
In 2017, the local authorities decided to replace the lighting on the seaside promenade and some of the main axes to revitalise the area and boost the night-time economy. Aware of the importance of lighting for a good nocturnal environment, the local council took the opportunity to work with local contractors who shared their objective and could provide a technical solution that would not only improve the visual environment but also reduce energy and maintenance costs.
 The Neos LED and OMNIflood were installed on 15m high masts to light the promenade. Each mast incorporates 6 Neos and 3 OMNIflood luminaires. They provide a warm white light to create an inviting space where people can sit, dwell and enjoy the views. The lack of columns also provides a flexible open space to support local events.
 A total of 500 Aramis LED was installed on the main axes. Thanks to their performing photometry, they direct the light to exactly where it is needed, ensuring safety and visual comfort for motorists as they make their way around the town.
The local authorities are delighted with the new lighting, which has breathed new life into the town centre while enabling them to reduce their operating costs and carbon footprint.