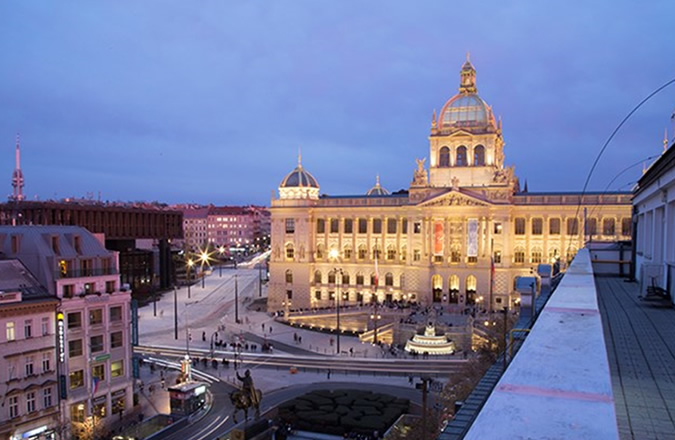 National Museum – Prague
Energy-saving illumination scheme transforms this heritage building into a visually spectacular focal point by night and creates a public space where people want to gather
The National Museum, which is the largest museum in the Czech Republic, first opened in 1891. The neo-renaissance building was designed by Josef Schulz as an architectural symbol of the Czech national revival and to put the city on the international map. A national heritage site, it has recently undergone 3 years of renovation work to preserve this important cultural monument and turn it into a modern museum space. As a result, visitors will be able to admire many unique collections, which until now, had been hidden away in depositories.
The museum reopened its doors on 28th October 2018 to celebrate the 100th anniversary of the foundation of Czechoslovakia. As part of the celebrations, a new lighting scheme was revealed.
The objective was to use light to celebrate and enhance the magnificent architectural façade with its intricate details while creating a warm and inviting outdoor space. The customer wanted an LED lighting system to reduce maintenance and operating expenses.
Careful to respect the heritage of the building, Schréder worked closely with the customer and the national heritage conservation department, proposing various designs and renderings to simulate and achieve the desired nocturnal effect.
We proposed a mixture of ART and Terra floodlights to provide just the right amount of light. The ART floodlights were carefully integrated onto the façade. Fitted with white LEDs, they accentuate the wide array of details on the façade and highlight the individual window cassettes. Terra floodlights, recessed in the ground, enhance the beautiful stone walls.
OMNIstar floodlights were installed on high masts to light the area around the museum, with little visual clutter. They create a welcoming public space for visitors and local residents to appreciate.
The new illumination has created an iconic landmark on Prague's skyline and provides a complete and vibrant centre for the city.