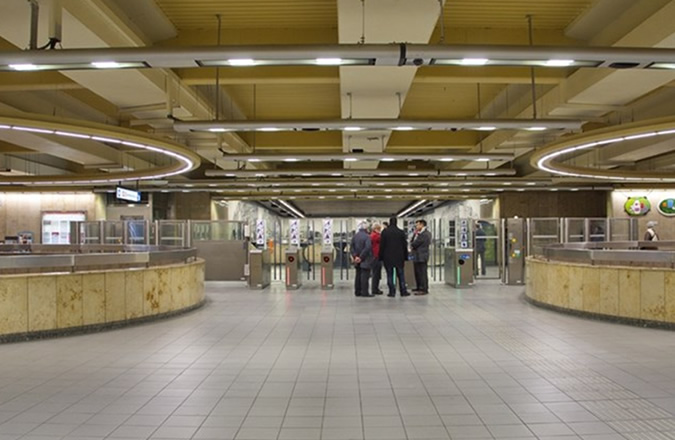 Aumale Metro Station – Brussels
Energy efficient LED lighting solution improves security and well-being for passengers in Brussels metro station
As part of the city of Brussel's mobility plan, Aumale metro station and its surrounding areas have been renovated to improve the customer experience.
Two new lifts providing access to the ground level for passengers with reduced mobility have been installed while a new 100% LED scheme lighting has transformed the entire metro station.
The old lighting system was no longer providing the required lighting levels (200 lux), resulting in areas of the station being badly lit with a high feeling of insecurity.
The Astral LED has increased the lighting levels from 150 to 300 lux while reducing the energy consumption by 50% (from 28kWh to 14kWh per luminaire) and CO2 emissions by nearly 20 tonnes per year.
The luminaires are fitted with a dimming system that reduces the lighting levels to 70 lux when the station is not being used, increasing the energy savings further. The new lighting scheme has also dramatically cut maintenance costs as the lamps for the old luminaires had to be replaced every 2 years.
The Astral LED also integrates the station's loudspeaker system and surveillance cameras, offering a more practical solution and aesthetically appealing environment.
The areas surrounding the metro station were also refurbished to improve accessibility and create more secure and engaging urban spaces. The roads and pathways have changed to create a continuous pedestrian pathway to the metro entrance. Trees have been planted and street furniture was installed. Schréder in collaboration with the designer Lucile Soufflet, provided the new chairs which not only provide functional seating but create a unique visual identity for the area with their quirky design.
A total of 54 chairs with different sizes, some scattered randomly, others attached in a row, brighten up this landscape, offering relaxation for weary travellers and local residents. Schréder was delighted to have contributed to the success of transforming this metro station, the first in Belgium to be lit completely by LEDs, into a transportation hub with a strong sense of safety and well-being within a very short and challenging time frame.